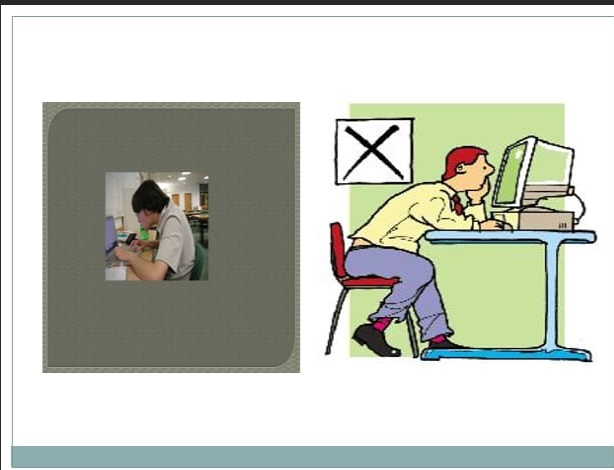 5 Easy tips for busy entrepreneurs and professionals spending maximum time of their day at desk:
Many people who spend long hours at their desk suffer unknowingly from what is common referred to as 'Sitting Disease', a condition where the lipoprotein lipase enzymes in the blood vessels essentially go to sleep after 60-90minutes of inactivity. Standing, walking, fidgeting and contracting/ relaxing the muscles every hour or more seems to reactivate the sleeping lipoprotein lipase enzymes. This stimulates the metabolism. Ergonomics is the science and the art of fitting the job and the workplace to workers needs. Follow these quick and easy office ergonomic tips to decrease fatigue, discomfort and physical stress while also increasing comfort and productivity.
1. Maintain optimal posture.
Sit upright, but relax your back and neck muscles.
Move chair as close to your desk as possible.
Make sure to scoot your chair in every time you sit down.
2. Ergonomic station
Use a comfortable cushion.
Back rest height must be adjustable.
The monitor should be placed directly in front of you and at a distance of an arm length.
Armrests play an important role in reducing neck and shoulder strain and diminishing the likelihood of slouching forward.
3. Eat right and drink plenty of water
Ditch all junk food and opt for healthier food items like fruits, salad and poha./
Don't skip breakfast, drink green tea.
Keep a water bottle at your desk and sip frequently.
4. Take frequent breaks
5 minute stretch and walk every hour or two will do wonders for your body.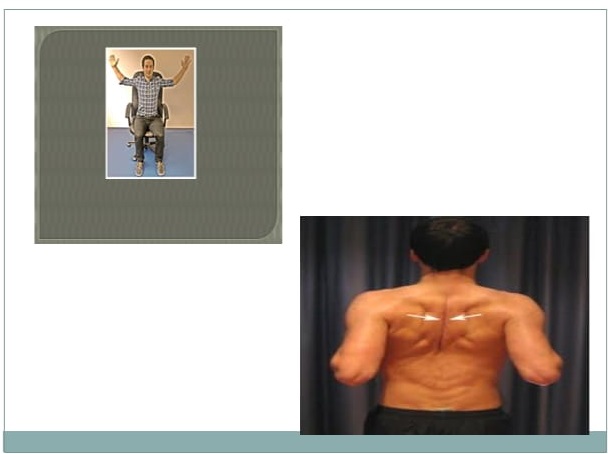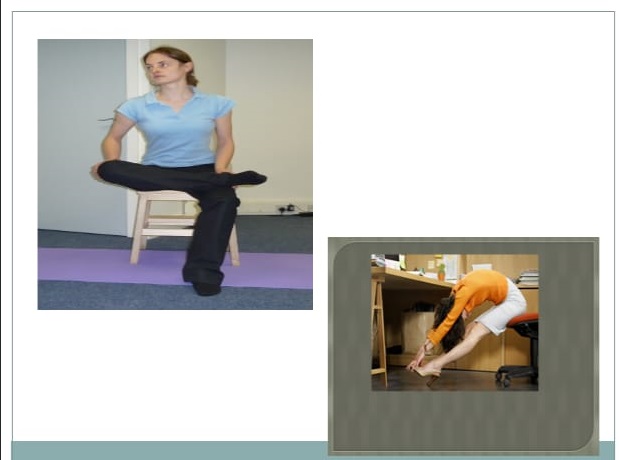 5. Avoid eye strain
Every 20 minutes, take 20 seconds to look away from your screen.
Take steps to control screen glare, and ensure that your monitor is not placed in front of a window or a bright background.
Turn on clear type in Microsoft windows XP and increase your monitor refresh rate.
6. Exercise regularly
Bend forward to touch your toes.
Bend backward
While sitting, do upper body rotation in your chair.
Shoulder shrugs.
Chin tucks.
Wall push-ups
Chair push-ups